I have decided to take back the page that I started back at the beggining of the year (members.xoom.com/dtfans). I needed something to do and to keep busy. I moved the site from XOOM because of the annoying frame at the top of the page. Here in TRIPOD it is an annoying extra window, but I think that it is better because it does not modify the page.
If you are a fan then you already knew that Derek was replaced by Jordan Rudess (LTE, LTE2, among others). Thanks Derek and welcome Jordan.
NO FRAMES POLICY
You will be able to browse this page comfortably without those lousy frames
---
The Band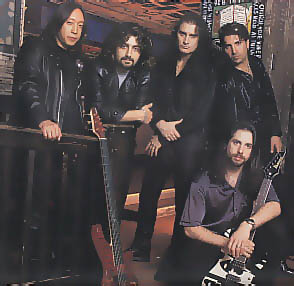 (Myung, Portnoy, LaBrie, Sherinian, Petrucci)
Since I've just started remodeling the page the sections will not be at its best but they will be better after the weekend, so check back. if you have DT MP3's then you are welcome to send them or tell me where to find them. I will also post recent news every Sunday or Monday when I recieve the UACM newsletter. Check the links they kick ass!
[ P I C T U R E S ] - [ L I N K S ] - [ T A B S ] - [ N E W S] - [ M P 3 ]
Site Created: November 23, 1999 | Last Update: November 25, 1999 | Contact: rata@expressmail.net (webmaster).